Hi! I'm Melissa.
I help businesses build websites and web-based applications by applying lean UX/UI design.
Lean UX/UI
"Lean" is the most efficient path to initial release. Whether it is the initial release of the whole product or a new feature, I'll use the best UX techniques for your project to help determine the minimum viable product.
When it comes to UI design, I go straight to HTML, CSS, and jQuery so you get design mock-ups and high fidelity prototypes in one step. I ultimately incorporate the code into a living style guide used by front-end developers.
My approach is about fast feedback and reusable code wherever possible.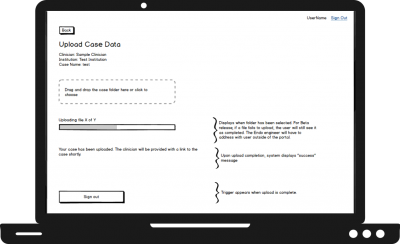 My Role
My role is different for each project. I am not committed to a process, procedure or particular tool (though I do have a few favorites). It depends on the team, project, timeline and budget. I specialize in:
Low-Fidelity Prototyping (wireframes)
Lean Personas
User Testing
Use Cases/Data Definitions
High-Fidelity Design and Prototyping using HTML/CSS/jQuery
Sprint Planning/Backlog Prioritization (Agile, Kanban, Waterfall)
Stakeholder Demos
Instructional Documentation/Videos
Living Style Guides (example pictured left)
Design Style
Below are some examples of my design style. Additional samples are available upon request.
Internal Application For Entering and Editing User Profile Data
After talking with users, we determined that starting with a simple dashboard focusing on the things they do 90% of the time made their jobs much easier and more efficient.
Medical Device Simulation Company
This application starts with a series of steps the user needs to take in order to submit files. We designed a wizard to walk them through it, giving them feedback as to where they are in the process and where they are going.
Contact Me
I currently live in Phoenix, AZ. Please contact me today to talk shop or to discuss your project!
Email: mgreen[at]mginnovationsllc[dot]com
Phone: 617-676-7522
Connect on LinkedIn